The days are long gone when you needed a travel agent in order to travel abroad. Booking flights and hotels online is normal. But there are still so many travel websites to be found that can make your life even easier and save you some of your valuable travel money. 
Here are 5 useful travel websites that you need to know – but probably never heard off. Or maybe you have…
1. Fly Onward – rent a flight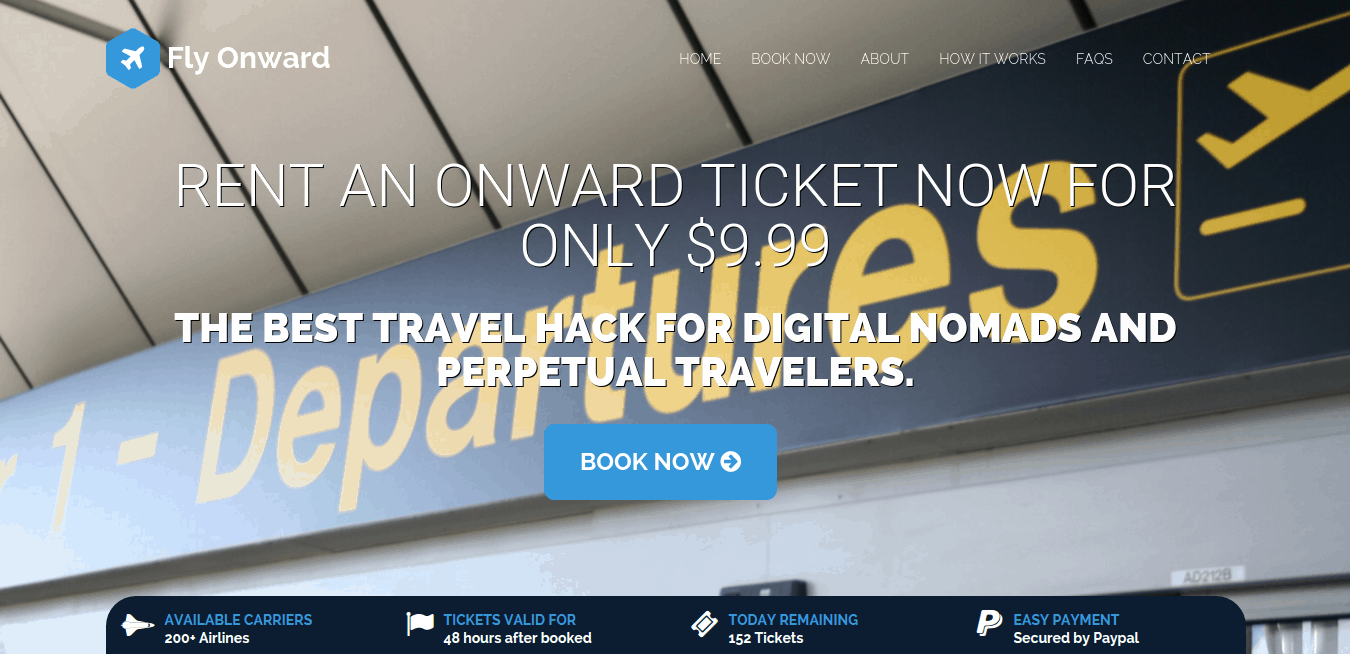 Flyonward is a must if you plan to travel the world with one-way tickets. Many countries insist that you have a return or onward flight. Without this you can be refused to enter the country. Some solutions are to buy a cheap onward flight that you won't use or buy an expensive refundable ticket. But not all your money is refunded. Both solutions cost you more money than going on flyonward.com
On Flyonward you rent a ticket for 24 hours for 9.99$. You get a valid, legal flight ticket from an airlines and after 24 hours it will expire. You could also get a ticket that is valid for 48 hours for 16.99$. Basically the Flyonward Team is buying a refundable ticket for you but are doing the hassle of getting the money back. So this makes it much easier for you. And its cheap. Just get the ticket a few hours before you fly to a country that expects an onward ticket and all will go well. We used this service many times and would recommend it to everybody.
2. Roomer – selling & buying discounted hotels rooms
Roomer is the marketplace for non-refundable hotel reservations! Here is the concept behind roomertravel.com: People book non-refundable hotel rooms but then something comes up and they can't use the hotel room. On Roomer they can sell the hotel room and get some of the lost money back. And other travellers can buy this hotel room on Roomer. So its a win-win for both parties, the seller gets some money (not the whole amount but still..) for a room he couldn't use anyway and the buyer gets the hotel room cheaper than the normal room rate. Watch the official video from Roomer. Great concept – from experience we can say you get the best deals in cities. Often its business traveller that sell their hotel rooms. But sometimes it's the same rate as on any other hotel booking website – so be sure to compare. The desktop version of Roomers lets you compare with other websites.
3. Adioso – flexible search for flights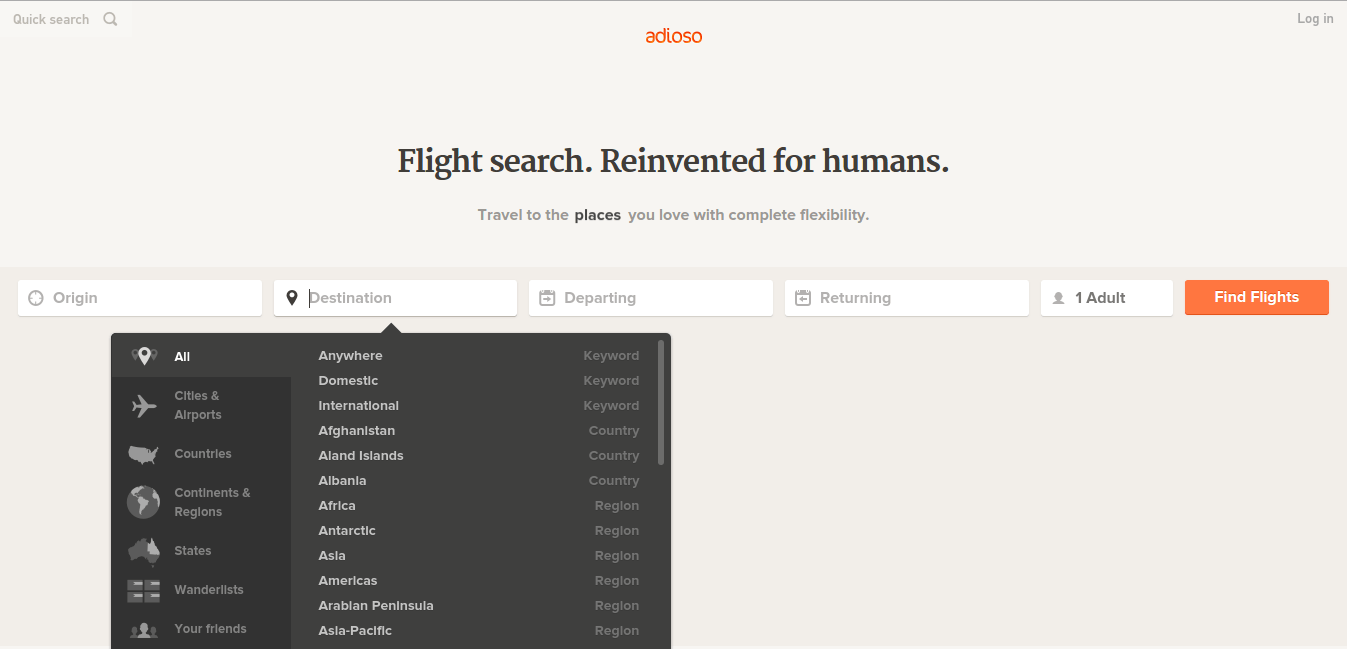 We use different websites for flights such as Skyscanner and Momondo but Adioso is the ultimate website when it come to flexible traveling. You don't have to pick a exact arrival destination. You can choose a country, a region, a state, a continent or choose a Wanderlist such as "Great Places to Ski". Moreover you're flexible with your dates as well, choose your departure from a date range or a whole month and then just define your trip length. The downside is that your departure destination can not be flexible.
Another great function on this website is the "Quick Search" it lets you search for a flight with words. Just like you're searching something on google. For example you can tipp in "Singapore to Australia in february for two weeks for two adults under $350" and it shows you the results. Genius! And if your planning a trip and want to watch the prices develop set up an email alert.
4. Vayable – the local experience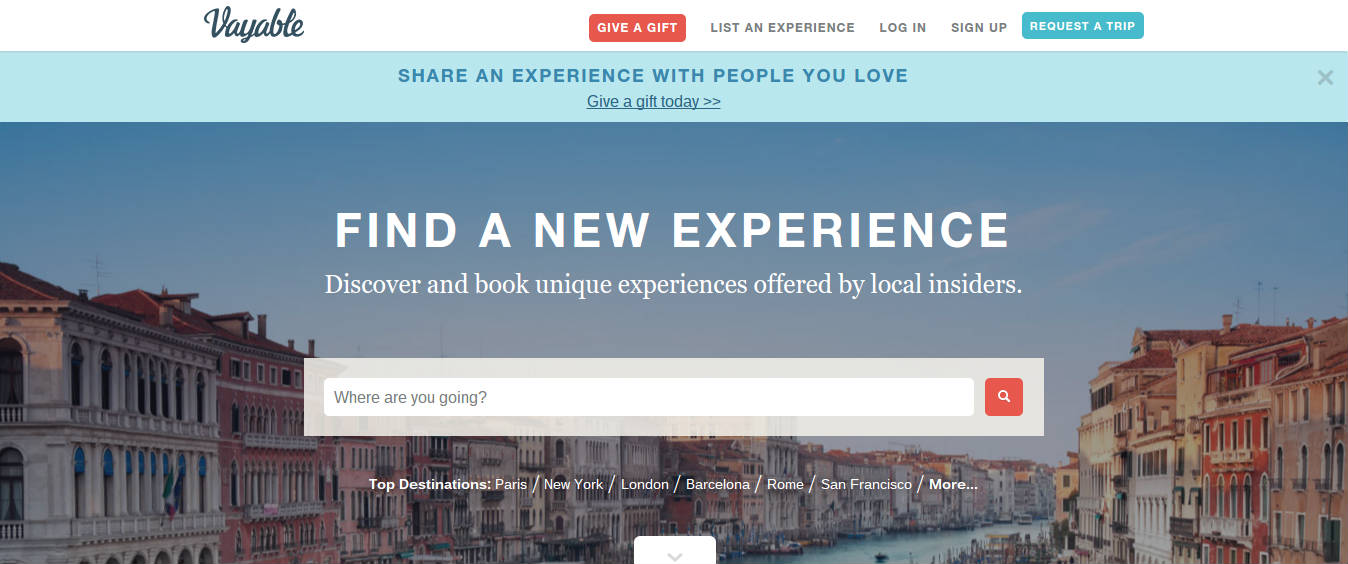 Vayable is the AirBnB for tours. When visiting a place you can book a "tour" with a local. Locals offers their time and knowledge to show tourist something cool in their town. So this is very different than what commercial tour operators provide – for example on Vayable you can find: pub crawls, food tours, street art tour, a private dinner at a local's home, night photography tour, underground history tour, wine tasting and much more – basically anything that the local can come up with. On the website you get infos about the tour, your tour guide, schedule, costs and you can read the reviews from other tourists that did the tour. It depends on the city, but most of these tours are not really cheap – however it's totally worth it. Every tourist wants the local experience and on this website you can actually book it.
5. Hotwire – book a mystery hotel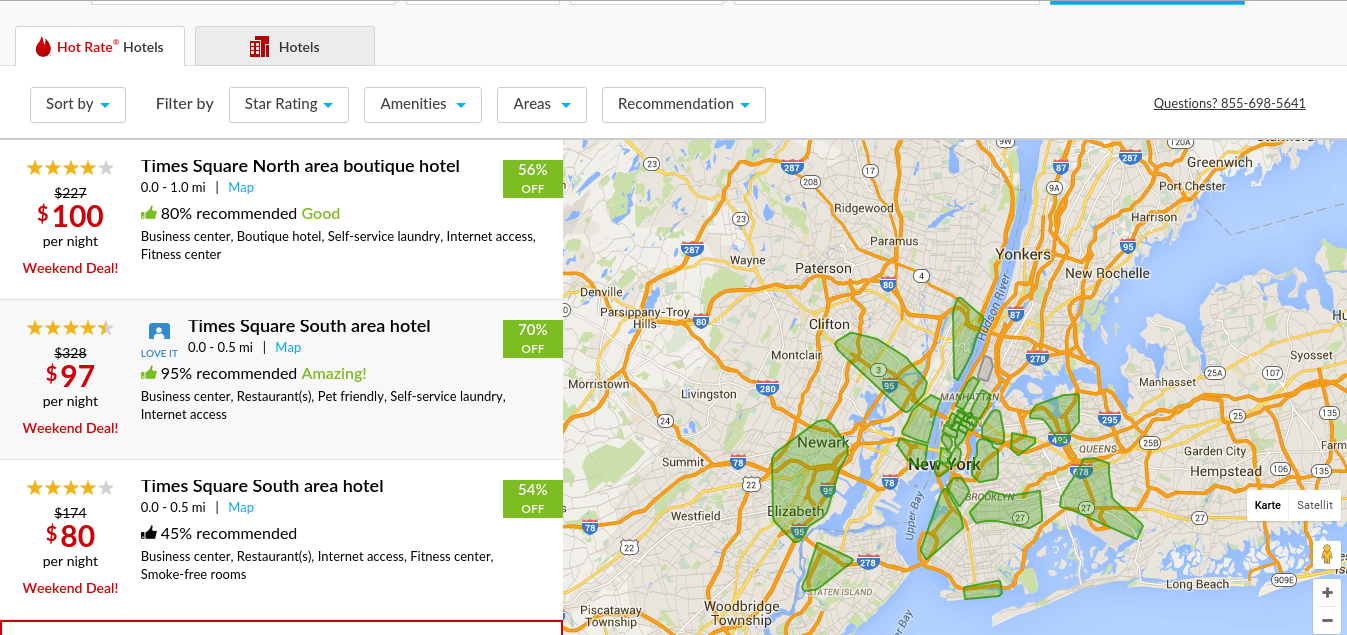 Hotwire is another hotel website to book hotel rooms below the normal room rate. The catch here is you don't know in which hotel you're reserving a room. And in most cases it's non-refundable. Here is how the concept works – hotels have high fix costs that they need to cover. A big hotel is never fully booked – so they always have empty rooms. The management would rather sell rooms to cover the costs then have empty rooms, especially if they are still able to sell other rooms from which they make a profit. However they don't want to sell the "fix costs rooms" publicly. For example, it would harm the image of a Four Season or Marriott hotel if they sell so cheap. In order to keep this practise low profile they sell them anonymously on Hotwire.
But you don't just buy any hotel, there are still some factors to choose from: the location of the hotel (part of town), amenities that the hotel should have and star rating. Of course you can also read the reviews for this hotel either from hotwire or see the overall rating from tripadvisor. Yes, you might fell uneasy when buying a mystery hotel – but if you get a room rate that's up to 70% cheaper you should take the risk. Just like Roomer, this concepts works best in cities and we found out you get the best discount with upscale hotels (4-5 stars).
Did you enjoy this article? Give us a Like on Facebook. Thx!
Image: 

CC BY 3.0

,

Boulders Beach HDR, Nicolas Raymond

, Freestock.ca, Adaptation text: 5 Useful Travel Websites You Need To Know,